DD-186 Clemson class

Design History
The second batch of flushdeckers, following the Wickes class, was the Clemson class. The primary feature differentiating the two classes was the provision for oil bunkers to the sides of the boiler rooms in the Clemson class, with hopes of remedying the problematical situation in the Wickes class of widely varying endurances.
Otherwise similar in armament, propulsion systems, and layout, the Clemson class suffered from the same problem with the Yarrow boilers that the Wickes class had.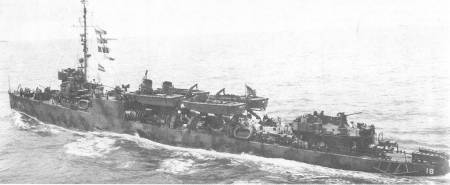 Modification History
More Clemsons than Wickes remained in commission through the inter-war period. Fourteen destroyers were rebuild as seaplane tenders in 1938-1940, losing two boilers in favor of aviation-fuel storage; another four were converted to fast minelayers in 1930-1937, and nine to fast minesweepers in 1940-1942. Eleven were modified as escorts prewar, receiving 3" L/50 guns instead of the 4" guns installed previously, and also losing a boiler.
During the war, those ships not yet converted to special roles received additional 20mm guns and ASW weapons, for they, too, would now be primarily used for ASW. Torpedo tubes were reduced in favor of K-guns. Nine of the seaplane tenders were re-designated destroyers. All ships received air and surface search radar.
Service History
Eleven Clemson class destroyers and two seaplane carrier conversions were serving with the Asiatic Fleet in 1941, providing valuable service and making the first U.S. torpedo attack at Balikpapan. Five of their number, all destroyers, were lost, with Steward afterwards seeing service in the Imperial Japanese Navy as a patrol boat. Pacific service for these destroyers continued in the Aleutians, where they continued in regular destroyer roles. After 1943, there remained no regular destroyers of this class, all having been converted to various roles as escorts. A total of 19 were transfered to Great Britain in the 1940 Destroyers-for-Bases-Deal.

Ships in class:

DD-187 Dahlgren
DD-188 Goldsborough
DD-189 Semmes
DD-196 George E. Badger
DD-199 Alexander Dallas
DD-206 Chandler
DD-207 Southard
DD-208 Hovey
DD-209 Long
DD-210 Broome
DD-211 Alden
DD-213 Barker
DD-214 Tracy
DD-215 Borie
DD-216 John D. Edwards
DD-217 Whipple
DD-218 Parrott
DD-219 Edsall
DD-220 MacLeish
DD-221 Simpson

DD-222 Bulmer
DD-223 McCormick
DD-224 Stewart
DD-225 Pope
DD-226 Peary
DD-227 Pillsbury
DD-228 John D. Ford
DD-229 Truxtun
DD-230 Paul Jones
DD-231 Hartfield
DD-236 Humphreys
DD-237 McFarland
DD-239 Overton
DD-240 Sturtevant
DD-241 Childs
DD-242 King
DD-243 Sands
DD-244 Williamson
DD-245 Reuben James
DD-246 Bainbridge

DD-247 Goff
DD-248 Barry
DD-249 Hopkins
DD-250 Lawrence
DD-251 Belknap
DD-255 Osmond Ingraham
DD-260 Gillis
DD-266 Greene
DD-267 Ballard
DD-270 Thornton
DD-336 Litchfield
DD-337 Zane
DD-338 Wasmuth
DD-339 Trever
DD-340 Perry
DD-341 Decatur
DD-342 Hulbert
DD-343 Noa
DD-344 William B. Preston

DD-345 Preble
DD-346 Sicard
DD-347 Pruitt
Stats

Displacements:
Standard: 1,202 tons
Full: 1,1699 tons
Length: 95,8m / 314ft 4"
Beam: 9,41m / 30ft 10,5"
Draft (Full Load): 3,63m / 11ft 11"
Crew (Officers/Men): 5/95
Endurance: 2500nm at 20 knots
Speed: 35 knots

Armor

Belt: No belt armor
Deck: No deck armor
Barbettes: No barbette armor
Conning Tower: No conning tower armor

Armament and Equipment

(As designed):
Main: 4 x 102mm L/50, in four single mounts: one on the forecastle, one on the quarterdeck, two in the waist abaft no. 2 stack.
Secondary: None
AA: 2 x 1pdr in single mounts
Torpedoes: 12 533mm torpedo tubes in four triple mounts, two on each side.
Depth Charges: 2 x depth charge track

(Broome, February 1944):
Main: 6 x 76mm L/50 spread about the ship
Secondary: None
AA: 5 x 20mm L/70
Torpedoes: 6 533mm torpedo tubes in two triple mounts.
Depth Charges: 6 x K-Gun, 2 x depth charge track