DD-386 Bagley class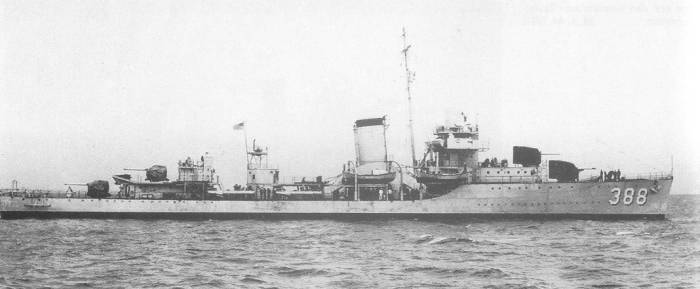 Design History
Designed to fill the rest of the FY34 quota of 1,500ton destroyers, these followed the general outline of the Bethlehem design. Since their design agents, however, were the Navy Yards which would build them, the Bagleys received not the advanced steam and engine plant of the Gridleys, but that of the Mahans, which, given the increase in displacement over the Mahans (of almost 200tons) was only good for 36 knots, compared to the Gridley's 39 knot test runs. Otherwise similar, the Bagleys nonetheless were more stable than the Gridleys, making their modification easier. Eight BAGLEY class ships were procured, all built by Navy Yards.
Modification History
Due to their better stability, the Bagleys were more extensively re-equipped with AA armament than their half-sisters. Initially receiving 6 20mm guns in 1942, along with air and surface-search radar, beginning in 1943 and through 1944 they received a twin 40mm mount in front of no.3 5" gun, where there had been two 20mm guns. These were now placed aft of the smoke stack. All torpedo tubes were retained aboard the Bagleys.
Service History
All eight destroyers served in the Pacific Fleet, participating in all major engagements. Off Guadalcanal, JARVIS became the first war loss, damaged by an aerial torpedo on August 8th, then sunk a day later on her journey to Sydney for repairs. There were no survivors. Only two weeks later, BLUE was surprised off Guadalcanal by a Japanese destroyer and sunk with torpedoes.
All six remaining destroyers were moved to MacArthur's 7th Fleet in 1943, serving off New Guinea. Henley was sunk in that service by a Japanese submarine. Transferred back to the Central Pacific, the ships served in the carrier screens in the Marianas operation and off Formosa, and participated in the Battle of Leyte Gulf. Transferred again, the destroyers operated in the Philippines, in the Lingayen Gulf landings, and later off Okinawa and in the Indonesian islands. Mugford and Ralph Talbot were used in the Bikini A-Bomb tests and later scuttled, the rest was scrapped in 1947.

Ships in class:
DD-386 Bagley
DD-387 Blue
DD-388 Helm
DD-389 Mugford
DD-390 Ralph Talbot
DD-491 Henley
DD-492 Patterson
DD-493 Jarvis
Stats

Displacements:
Standard: 1,624 tons
Full: 2,245 tons
Length: 104m / 341ft 3 5/8"
Beam: 10,81m / 35 6 1/8ft
Draft (Full Load): 3,89m / 12ft 9,5"
Crew (Officers/Men): 8 / 150
Endurance: 4,360nm at 20 knots
Speed: 37 knots

Armor

Belt: No belt armor
Deck: No deck armor
Barbettes: No barbette armor
Conning Tower: No conning tower armor

Armament and Equipment

(As designed):
Main: 4 x 127mm L/38, in single mounts: two forward, superfiring, two aft, superfiring
Secondary: None
AA: 4 x 12.7mm L/90 in single mounts
Torpedoes: 16 533mm torpedo tubes in four quadruple wing mounts
Depth Charges: 2 x depth charge track, 14 depth charges

(Bagley, may 1944):
Main: 4 x 127mm L/38, two forward superfiring, two aft superfiring
Secondary: None
AA: 2 x 40mm L/56 in one twin mount, 7 x 20mm L/70
Torpedoes: 16 533mm torpedo tubes in four quadruple wing mounts
Depth Charges: 4 x K-Gun, 2 x depth charge track