Pensacola class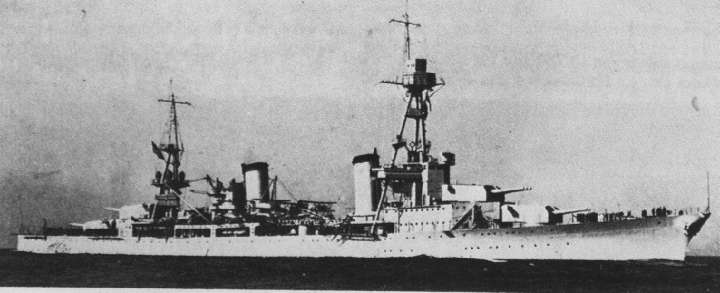 The Pensacola class was the US Navy's first step into the "Treaty-" or "Washington-Cruiser" design. It was also the only such cruiser which could match the firepower (guns-wise) of the heavier Japanese cruisers.
It is interesting to note that this class was acually commisioned before the Heavy and Light cruiser regulations took effect, and thus, according to Terzibaschitsch, these ships carried a CL designation for some time.
Anyway, the Navy upon creating specifications for this class, also created several ideas of what was right and what wasn't. First, it was decided that 203mm hits were impossible to defeat by armor on a ship of 10.000 tons, especially from close range. Second, it was decided that the 203mm gun was better on this ship than a 152mm, as it was deemed that this gun would be able to hold any 152mm-gunned ship on distance. This opens an interesting fact, namely that the US deemed that close-range 203mm shells would be the only threat to a ship like this and that it didn't armor it's ships against long-range 203mm granates because hits from those appeared unlikely while itself assumed that long-range 203mm shells would be able to hold off any Light Cruisers.
Whatever, in the end the Navy had two heavily armed cruisers with protection that barely held off 127mm close-range granates. The vessels looked rather unique. Though triple and twin turrets in combination had already been seen on USS Nevada and her sistership, the ten 203mm guns on Pensacola were emplaced curiously different: the two triple turrets were placed two decks ABOVE the two twin turrets, which were on the main deck.
Thus, the heavier triple turrets superfired the twin turrets. It is explainable forward, were the ships' small beam made the mounting of the larger triple mounts impossible, but aft, these conditions did not apply. Probably for reasons of symetry or weight distribution, this mounting applied aft as well. Anyway, this placement gave these ships some serious problems later, as top-weight became more of a concern and stability was further reduced by the addition of more and heavier flak.
Lacking a hangar, this class of ship was restricted to one plane for each of its catapults.
It is interesting perhaps that although the literature on these ships rarely praises them, they survived the war and the Bikini A-Bomb tests that they had to participate in.

Armament

(Pensacola, 1941):
10 x 203mm L/55 in two triple and two double mounts, one of each forward and aft, the triple mounts superfiring
8 x 127mm L/25 in single open mounts, four on each side
16 x 28mm
9 x 20mm
(Salt Lake City, 1945):
10 x 203mm L/55 as above
8 x 127mm L/25 as above
24 x 40 mm L/56
20 x 20mm

Stats

Displacement:
Standard: 9100 tons
Full: 11512 tons
Length: 178.5 meters
Beam: 19.9 meters
Draught: 5.9 meters
Height (Mast): 45.5 meters
Crew: 631 men
Speed: 32.5 knots

Complement (Planes)

Two floatplanes
Ships in class:
CA-24 Pensacola
CA-25 Salt Lake City