Sangamon class

[Note: there is little available on these ships.]
Design History
Four ships of the Cimmaron class of fleet oilers, completed in 1939, were converted on President Roosevelt's demand for escort carriers. Paid for in Financial Year 1942, and begun in early 1942, the oiler conversions were larger than the C-3 conversions, but at the same time slower and with less hangar space. They did possess a slightly larger aviation gas and bunker oil capacity, owing to their origin as tankers.
The hangar deck did not have a sheer, as in the C-3 conversions, a considerable advantage. The four ships built in the Sangamon class were further subdived by their engine equipment. Sangamon and Suwanee were powered by General Electric turbines, Chenango and Santee by Westinghouse turbines.
The Sangamon class at first carried the standard CVE battery of 2 5"/L51 guns, and also received initially 22 40mm L/56 and 21 20mm L/70. All were modified later.
Modification History
No specifics known at this point.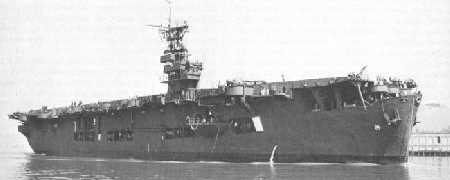 Service
After conversion, Sangamon operated in Operation Torch and then joined the Pacific Fleet in January 1943. She operated in the South Pacific in support of reinforcement and interdiction missions, until relieved in September 1943. She then moved to take part in the Gilbert and Marshall operations, being damaged by her own planes in early January 1944. She participated in the Marianas operation and in the Leyte Gulf landings, then returned for overhaul to the United States. She joined the fleet again for the Okinawa landings.
Suwanee also participated in Torch, in the operations around Guadalcanal, and the Central Pacific campaign. At Leyte, she suffered the second Kamikaze hit ever taken. Completely overhauled in the United States, she re-joined the fleet off Okinawa.
Chenango shared a largely similar fate, but did not participate in the Leyte Gulf operations, but ferried replacement aircraft to her sisters shortly after. She too ended her wartime career off Okinawa.
Santee spent most of her career on ASW duty in the Atlantic. She served in Torch, then escorted convoys to and from England and ferried planes. She went to the Pacific in early 1944, participated in the New Guinea campaign and ferried planes before participating in the Leyte Gulf campaign. She joined in the Okinawa campaign and ended her war there.

Ships in class:
CVE-26 Sangamon
CVE-27 Suwanee
CVE-28 Chenango
CVE-29 Santee
Stats

Displacements:
Standard: 21,412 tons
Full: 23,875 tons
Length: 168.55m / 553ft
Beam: 32.05m / 105ft 2"
Draft (Full Load): 9.34m / 30ft 7 1/2"
Height: ???? / ????
Crew (Officers/Men): 830
Endurance: 24.000nm at 15 knots
Speed: 18 knots

Armor

Belt: No belt armor
Deck: No deck armor
Barbettes: No barbette armor
Conning Tower: No conning tower armor

Armament and Equipment

(As designed):
Main: 2 x 127mm L/51 on the stern
Secondary: None
AA: 8 x 40mm L/56 in twin mounts, 12 x 20mm L/70 in singles.
Aviation:
~25 planes
(Sangamon, 1945):
Main: 2 x 127mm L/38 on the stern
Secondary: None
AA: 28 x 40mm L/56 in twin mounts, 12 x 20mm L/70 in singles
Aviation:
VC-??: 26 x F6F-5 Hellcat fighters, 6 x TBM-3 Avenger torpedo bombers