Casablanca class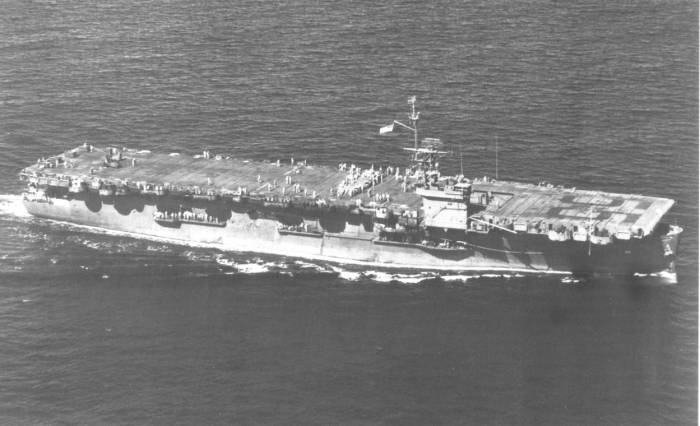 Design History
By the time CVE-54 had been ordered, President Roosevelt remained convinced that more escort carriers were needed. It was due to Henry Kaiser's influence that the President ordered the procurement of fifty more escort carriers under the auspices of the Maritime Commission, the wartime shipping construction agency. The primary mission of the new ships, as envisaged by the Maritime Commission, was the job of ferrying aircraft, and only in the secondary task was convoy protection mentioned. Not mentioned at all was amphibious support.

The Casablanca class ships were relatively small at 10,200 tons (incidentally about the size of ship envisaged in the 1920s and 1930s small carrier designs), but possessed a more useful and larger hangar deck than the preceding conversions - not unexpected in a ship that was designed from keel up an escort carrier. It possessed a large flight deck than the Bogue class, though not the Sangamons, and of course, a much smoother interior layout.

Since the availability of steam turbines was seriously limited by other, more urgent programs, the old-style reciprocating engines were employed, powering two shafts for 20 knots. This was considerably faster, and the class considerably more maneuverable, than the previous ships. The new carriers received the standard CVE island, which was obviously more than satisfactory, and a large margin of fuel oil for refueling destroyers.

There were, to be certain, certain gaps in the design, mostly concerning protection (which was limited to splinter plating).

Two catapults were provided for a designed air group of 28 planes, for which two aircraft elevators were available of sufficient size and shape to handle the common types found.

The new carriers were armed with a single 5" L/38 on the stern, 16 40mm L/56 in twins around the flightdeck, and numbers of 20mm L/70 guns. In keeping with their air group capacity, the ships received SK and SG radars when available.

Modification History
In order to improve the protection of the class, in practice two of the three aviation ordnance magazines were abandoned and the last protected by fluid-filled voids. STS plating was later added.
Service
The huge number of carriers makes it impossible to keep track of individual service records. Carriers of the Casablanca class participated in every major fleet operation after their commissioning, serving in support, ASW, aircraft replacement, aircraft ferrying and transport roles.

Ships in class:

CVE-55 Casablanca
CVE-56 Liscombe Bay
CVE-57 Coral Sea, renamed Anzio, Sept. 1944
CVE-58 Corregidor
CVE-59 Mission Bay
CVE-60 Guadalcanal
CVE-61 Manila Bay
CVE-62 Natoma Bay
CVE-63 Midway, renamed St. Lô, Sept. 1944
CVE-64 Tripoli
CVE-65 Wake Island
CVE-66 White Plains
CVE-67 Solomons
CVE-68 Kalinin Bay
CVE-69 Kaasan Bay
CVE-70 Fanshaw Bay
CVE-71 Kitkun Bay
CVE-72 Tulagi
CVE-73 Gambier Bay
CVE-74 Nehenta Bay
CVE-75 Hoggatt Bay
CVE-76 Kadashan Bay
CVE-77 Marcus Island
CVE-78 Savo Island
CVE-79 Ommaney Bay

CVE-80 Petrof Bay
CVE-81 Rudyerd Bay
CVE-82 Saginaw Bay
CVE-83 Sargent Bay
CVE-84 Shamrock Bay
CVE-85 Shipley Bay
CVE-86 Sitkoh Bay
CVE-87 Steamer Bay
CVE-88 Cape Esperance
CVE-89 Takanis Bay
CVE-90 Thetis Bay
CVE-91 Makassar Strait
CVE-92 Windham Bay
CVE-93 Makin Island
CVE-94 Lunga Point
CVE-95 Bismarck Sea
CVE-96 Salamaua
CVE-97 Hollandia
CVE-98 Kwajalein
CVE-99 Admiralty Islands
CVE-100 Bougainville
CVE-101 Matanikau
CVE-102 Attu
CVE-103 Roi
CVE-104 Munda
Stats

Displacements:
Standard: 10.122 tons
Full: 10.902 tons
Length: 152.10m / 498ft
Beam: 32.95m / 108ft 1"
Draft (Full Load): 6.36m / 20ft 9 1/4"
Height: ???? / ????
Crew (Officers/Men): 764
Endurance: 10,240 at 15 knots
Speed: 20 knots

Armor

Belt: No belt armor
Deck: No deck armor
Barbettes: No barbette armor
Conning Tower: No conning tower armor

Armament and Equipment

(As designed):
Main: 1 x 127mm L/38 on the stern
Secondary: None
AA: 8 x 40mm L/56 in twin mounts, 12 x 20mm L/70 in singles.
Aviation:
~27 planes