Bogue class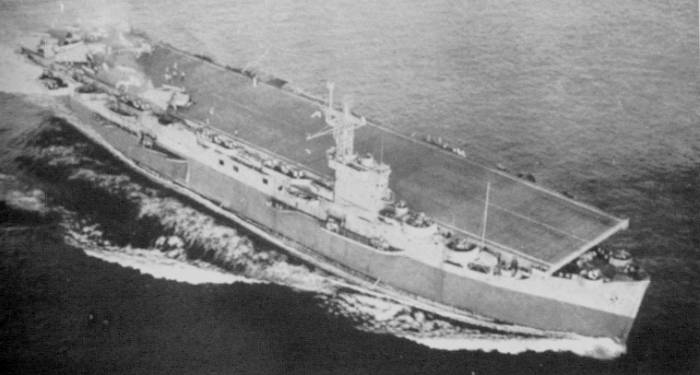 Design History
In April and May 1941, after initial discussion of converting larger ships, the Royal Navy ordered six C-3 hulls for conversion to escort carriers. One of these conversions, HMS Tracker, was built with a steam-turbined power plant, unlike previous ships which were diesel-driven. Tracker made 18.5 sustained knots at sea, outclassing Long Island by two knots. Since Tracker had been ordered for conversion even before her merchant-ship superstructure was complete, she sported a through-going hangar. In accordance with British practice, she carried a wider flight deck.

Early British combat experience indicated that at least a small island would be required by that ship, and in all later ships, a small island was indeed fitted.

The Tracker design became the basis and prototype for the American Bogue class, of which a total of eleven were commissioned in the U.S. Navy, and of which the majority, especially of those ships ordered for Financial Year 43, were transfered to the Royal Navy.

The major factor in the C-3 merchant ship conversions, building on hulls that could be quickly fabricated and establishing only the most necessary aviation facilities, was speed and ease of construction. In that, the design admirably succeeded, but several design flaws marred that fine premise. The crude installation of the aft elevator made aircraft handling difficult; the ships had only one screw, a distinct disadvantage in handling damage; and they were not optimally suited for aircraft handling even with their larger hangars, which followed the sheer and camber of the original merchant ship deck.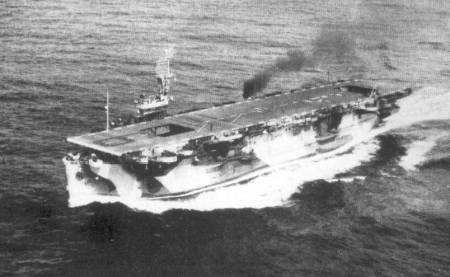 The original battery for this class specified 2 5" L/51 guns, plus four quadruple 1,1" guns, which would be comparatively easy to come by since they were being removed from front-line warships.
Modification History
All ships had their initial outfit of 5" L/51 guns replaced by L/38 guns in due course, later ships were completed with them. The ultimate anti-aircraft batteries comprised sixteen 40mm L/56 and twenty 20mm L/70. Not all ships were thus fitted. Radar equipment was added according to the time and location of the ship, but in general, SC air-search radar comprised the most modern radar suite, combined with high-frequency / direction-finding antennae. In mid-1945, modernizations comprising the use of modern fire-direction equipment and additional 40mm guns were contemplated, but not universally applied.
Service
Service records varied greatly with the theater served in; Bogue, Card, Core, Block Island and Croatan operated in the Atlantic on ASW duty (on which Block Island was lost), joining the Pacific Fleet only in the summer of 1945 (Croatan did not do so). Copahee, Altamaha, Barnes and Breton operated as a convoy escort and aircraft transport in the Pacific. Nassau conducted amphibious support operations in the Pacific. Prince William was a training carrier in the Atlantic.

Ships in class:
CVE-9 Bogue
CVE-11 Card
CVE-12 Copahee
CVE-13 Core
CVE-16 Nassau
CVE-18 Altamaha
CVE-20 Barnes
CVE-21 Block Island
CVE-23 Breton
CVE-25 Croatan
CVE-31 Prince William
Stats

Displacements:
Standard: ~8500 tons
Full: 14,914 tons
Length: 151,8m / 495ft 8"
Beam (Waterline): 21,18m / 69ft 6"
Draft (Full Load): 7,26m / 24ft 8 3/4"
Height: ???? / ????
Crew (Officers/Men): 100/808
Endurance: 26.300 at 15 knots
Speed: 16.5 knots

Armor

Belt: No belt armor
Deck: No deck armor
Barbettes: No barbette armor
Conning Tower: No conning tower armor

Armament and Equipment

(As designed):
Main: 2 x 127mm L/55 on the stern
Secondary: None
AA: 16 x 28mm L/74 in quad mounts, plus a number of 20mm L/70.
Aviation:
~24 planes