Tennesse class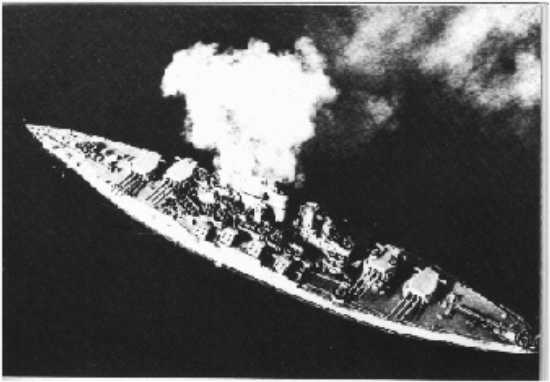 The Tennessee class was an improvement of the older New Mexicos. However, the two ships of the class had some important modifications added to them. They employed a flush deck, and better compartmentalization. With its turbo-electric propulsion it employed the same propulsion systems as the New Mexico class.
During refits in the 20's and 30's, the class received catapults and improved AA armament. Although further modifications were scheduled for 1939, the serious political situation required these ships to stay out of the yards.
This resulted in both ships lying in Pearl Harbor during the attack on December 7th 1941. Tennessee received only light bomb damage, and stayed in Pearl Harbor for the repairs. Only in September of 1942 did she move to Puget Sound Naval Yard for extensive remodellations.
California on the other hand was severely damaged by three bombs and two torpedoes and settled to the ground. She was raised in March 1942 and towed to Puget Sound for repairs. During their time in Puget Sound, the ships received improved horizontal armor, torpedo bulges reaching up to the upper decks, and numerous AA guns of all calibers, including modern 127mm L/38 twin secondary turrets. Her upperworks and superstructure were rebuild to the standard of South Dakota. Tennessee returned to the fleet in May 1943, California in January of 1944. Both ships supported the US landing operations, were damaged by coastal batteries off Saipan, and participated in the Battle of the Surigao Strait.
They continued service in the amphibious support groups off Okinawa, were Tennesse was hit by a Kamikaze. Both ships were scraped in 1959.
All data given for status after 1942/1943 refits.
Armament

12 x 356mm L/50 in 4 tripple turrets, in superfiring endarrangement
16 x 127mm L/38 AA and secondary in eight twin
turrets, four on each side.
40 - 56 x 40mm L/56
48 - 52 x 20mm single mounts

Stats

Displacement: 40500 tons
Length: 190.4 meters
Beam: 29.7 meters
Draught: 9.2 meters
Height (Mast): ????
Crew: 2375
Speed: 21 knots

Complement (Planes)

3 Floatplanes
Ships in class:
BB-43 Tennessee
BB-44 California