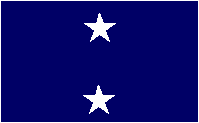 Rear-Admiral Joseph James Clark
Born: ?
Died: ?
Nickname: "J.J.", "Jocko"
United States Navy Academy Graduation 1918. Prefered to go by the acronym of "J.J." instead of his full name, or "Jocko". Clark had commanded an escort carrier, Suwanee in the Atlantic and off the North African coast until he was detailed to run the new carrier Yorktown (CV-10). Yorktown became flagship of Admiral Pownall during the 1943 carrier raids, and Clark and his operations officer Jimmy Flatley had opportunities to draw up fleet-wide attack plans.

In January 1944, Vice-Admiral Mitscher hoisted his flag on Yorktown, and Clark soon began to impress Mitscher. His fighting spirit and ability rated him high for promotion, and a mere month after Mitscher's takeover of the Fast Carriers, Clark was promoted to Rear-Admiral and COMCARDIV 13. His flagship, the new Hornet (CV-12), under Captain Miles Browning, did not report to Majuro Atoll until 18 March, and no carrier group was available, so Clark went into, as Professor Reynolds described it, "makee-learn" status and operated with TF58.

Clark didn't have to wait for long. Rear-Admiral Samuel P. Ginder, COMTG58.3, had proven to be an ineffective Task Group commander, and Mitscher wasted no time replacing him in early April with his new "first lieutenant", Jocko Clark.
Hoisting his flag back aboard Yorktown, Clark and his ship became host to Mitscher again, who held Clark in ever higher esteem.

During the Marianas campaign, Clark as COMTG58.1, performed brilliantly during a raid of the northern Marianas, which he as Mitscher's right hand and Rear-Admiral Harrill had been assigned to undertake. His fighting spirit won the day, and his excursion, plus his unwilligness to led Harrill's opposition to the operation affect its outcome, further highlighted his talent.

Arriving in time to fight in the Battle of the Philippine Sea, Clark's planes played a prominent part in it. In fact, Clark's ships were almost always closest to the enemy. This continued after the battle; for when all of the Task Groups returned to Eniwetok, Clark received permission for a strike against Iwo and Chichi Jima, which he successfully conducted.
Clark missed out the Battle of Leyte Gulf as Task Group commander since Vice-Admiral McCain took over his Task Group in makee-learn status for COMTF38. Clark decided that he didn't want to command a TG under Halsey and McCain, he asked to be relieved and returned as soon as Mitscher took over again. This was in effect agreed on, and Clark would return to the States when Rear-Admiral Montgomery would be available of TG command.

Before that happened, however, Clark and Rear-Admiral Davison paid another visit to Iwo and Chichi Jima in early July , destroying further numbers of planes, and in early August again. When on 18 August McCain replaced Clark, the latter was in for a well-earned period of comparative rest.

Even when idle and back in the states, Clark was a great aid to Mitscher. He suggested that Marine pilots be employed on the carriers as replacements for fatigued Navy fliers, and the Marines' planes would be coming in handy as well.
Clark finally returned to the Pacific Fleet when Vice-Admiral Mitscher took over the Fast Carriers again in February 1945, Clark getting back his TG 58.1, and now again embarked on Hornet. Serving in the raids against Japan in 1945, Clark's forces took several heavy attacks but escaped unharmed. His last adventure in the war was a typhoon which he hit thanks to an incredibly poor performance of TF38's weather expert. He was relieved on a regular basis of all combat commands shortly before the end of the war, earning again a well deserved shore billet. Clark became Vice-Admiral and commander of the 7th Fleet, which now had the Fast Carriers, during the Korean War, and ended his career as a full Admiral.