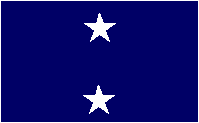 Rear-Admiral Clifton Albert Frederick Sprague
Born: ?
Died: ?
Nickname: "Ziggy"
United States Naval Academy Graduation 1918. Clifton Sprague was one of the many officers who went the war-time way to Fast Carrier Group command. His first war-time assignment was as skipper of the seaplane carrier Tangier during the apparently unsuccessful try of the ship to get supplies to Wake Island. He was commander of the new Wasp, CV-18, from commissioning, in which post he participated in the Marcus and Wake raids of early 1944 and the Marianas campaign including the Battle of the Philippine Sea. In summer of 1944, he was promoted to Rear-Admiral and took command of an Escort Carrier Group. As commander of this group, he participated in the landings at Morotai.

Sprague's day came when he was assigned to the Leyte landings, as COMTU 77.4.3. Consisting of six escort carriers (CVE), three destroyers, and four smaller destroyer escorts, this force encountered the Center Force of Admiral Kurita off Samar making the Battle of Samar. Through Sprague's able leadership, a disaster was prevented when five of the six escort carrier escaped the grasp of IJN units.

Still commanding the escort carriers during the Lingayen Gulf landings on Luzon in early 1945, by late May Sprague had reported in "makee-learn" (Reynolds, Fast Carriers) status to the fleet of fast carriers reporting in for the final strikes against Japan, hoisting his flag on USS Ticonderoga. This was Sprague's last war-time assignment. However, had the war continued, Sprague would have led a Fast Carrier Group against Japan during the Olympic and Coronet landings. He became a Vice-Admiral after the war. He was no relative of Tommy Sprague.