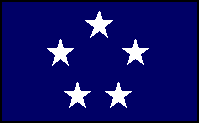 Fleet Admiral Chester William Nimitz
Born: 24 February 1885, Fredericksburg, Texas
Died: 20 February 1966, San Francisco, California
Nickname: ?
Awards: ?

United States Naval Academy Graduation 1905. Nimitz served on submarines for most of his early career and exchanged shoreduty with submarine service from time to time, until he became commander of USS Augusta in 1933. After commanding a score of cruisers and battleships, Nimitz became a rear-admiral and got a staff job in Washington, D.C., as Chief of the Bureau of Navigation, interestingly concerning itself with the Navy's personal.

On the suggestion of Secretary of the Navy Frank Knox, Nimitz was promoted to full Admiral and became Commander-in-Chief Pacific on January 1 1942. In his short speech, Nimitz noted "I have just taken on a great responsibility. I will do my utmost to meet it."

Nimitz kept his promise. Taking office when moral was on an all-time low, following Pearl Harbor and the aborted relief of Wake, Nimitz made moves to restore confidence. He did not remove Admiral Kimmel's staff from duty, knowing that the Pearl Harbor disaster was not their fault and that their removal would only help to lower the moral.
He ordered raids conducted on the outposts of the new Japanese empire, knowing the his forces were neither numerically nor technically or experience-wise up to the Japanese fleet.

With a trustworthy staff, a superb intelligence section, and a smart mind, Nimitz led his forces into the battles of the Coral Sea and Midway, and put full trust into the commanders on the spot. Thanks to that, both battles turned out at least one kind of victory. He next commited his forces to the Guadalcanal campaign, and although being far away from the action, Nimitz changed the course of the action there decisively when he removed the incapable Vice-Admiral Robert Ghormley, and placed Vice-Admiral Bill Halsey in the office of Commander, South-West Pacific.

Nimitz's talent for finding good officers for the right tasks was furtherly proven when he assigned Vice-Admiral Ray Spruance to the job of COM5thFLT. As supreme commander of the Central and Northern Pacific forces after the conclusion of the Solomons campaign, and as that of the Southern Pacific areas as well before the conclusion, Nimitz controlled the most gigantic naval machinery ever assembled, leading it to victory with his calmness and bright mind.
Nimitz career continued with the Pacific Fleets progress, leading to his promotion to Fleet Admiral in December 1944. Nimitz signed the Declaration of Surrender aboard USS Missouri on 2nd September 1945, and became Chief of Naval Operations in December 1945, holding that post for two years.
Nimitz is buried on the Golden-Gate National Cemetry near San Francisco.