Consolidated PBY Catalina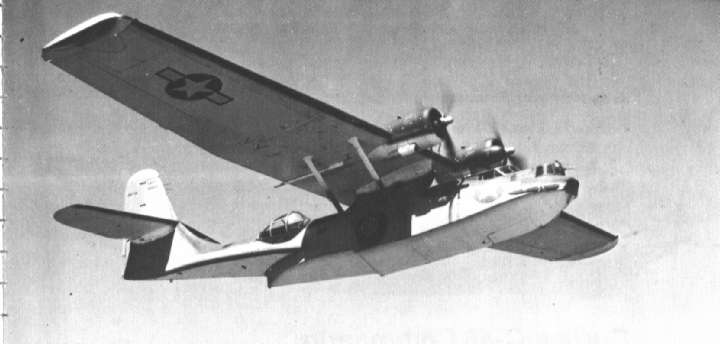 Consolidated's Catalina, or "Cat", was one if not the most successful and famous flying boat ever in service. It was widely renowned for its ease of flight, for its durability and for its reliability, its range and versatileness.

It originated from the P3Y, which first flew on 28th March 1935, constructed on a demand of the Navy for a replacement of the old Martin and Consolidated flying boats then in service, and was bought right away by the Navy, which ordered sixty of the flying boats build, under the designation PBY-1. Soon thereafter, with the first test flights completed, the Navy ordered the slightly improved PBY-2 and PBY-3, 115 of them, and the PBY-4, introduced in 1938, was the first with the complete looks of the well-known flying boat: two Twin Wasp engines, and the unique glass bubbles on the after fuselage. All these variants differed little from each other, and neither did the following PBY-5 and -6, their main differences being, in addition to those noted, a steadily increasing range and armament.

This armament, however, was not enough to remedy to Catalina's main comabt weakness: lack of speed. As an ocean reconnaisance plane, range was far more important than speed; but if engaged (and, as one pilot put it, everything that flew attacked the Catalina!), it could mean problems. The Catalinas rugged construction usually helped to survive attacks that could not be pressed home, but if seriously engaged, the Catalina was a sitting duck.

Not necessarily all of the planes were amphibious - only the -5A series, build for the Army for use in northern waters, introduced this capacity, though it was retained in all variants thereafter.

All variants still in service in 1941 (some had been discarded due to age) saw extensive service in the war, both in the Atlantic and Pacific, in Anti-Submarine Warfare, in search and rescue, in reconnaisance and attack, in freight and mail services, and even as tow plane for gliders. The Cat's most famous single engagement was perhaps the Battle of Midway. Catalinas located the IJN elements, and it was Catalinas, fitted with two torpedos each, that attacked the IJN invasion fleet at night an hit a Japanese tanker. At Guadalcanal, another Catalina, Brigadier General Roy Geiger's own, attacked a transport convoy coming down the Slot without success but with much daring. Catalinas flew over every area of the Pacific in range of air patrols.

The plane was introduced in both the Soviet and British forces during the war, and continued to see much service after the war in its old roles, and new roles such as as firefighting plane.

Stats PBY-5A

Length: 19.47m / 63.88 ft.
Wingspan: 31.7m / 104 ft.
Crew: 8
Weight Empty: 9485kg / 20910 lbs.
Weight Loaded: 15420kg / 34000 lbs.
Weight Maximum: 16066 kg / 35419 lbs.
Armament: 1 x 12.7mm / .50-caliber machine-gun, 4 x 7.62mm / .30-caliber machine guns
Up to 1815 kilograms / 4000 lbs. bombs, torpedos, depth charges
Top Speed: 288 km/h / 178 mph
Range: 4095 km / 2545 miles
Ceiling: 4800 meters / 15748 feet
Climb Rate: ??? meters per minute / ??? feet per minute