LOCKHEED PBO HUDSON
LOCKHEED R4O SUPER ELECTRA
by Jack McKillop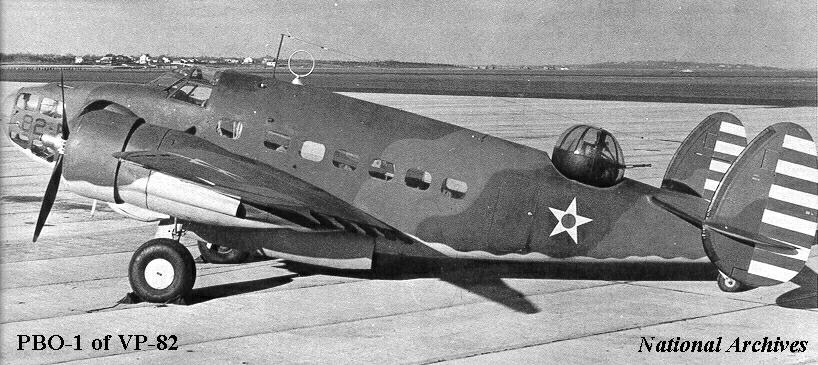 The Lockheed Model 14 Super Electra, built by the Lockheed Aircraft Corporation of Burbank, California, was a contemporary of the Douglas DC-2, designated R2D, q.v., in U.S. Navy (USN) service, but was a more advanced design with more powerful engines giving it a higher cruising speed. Lockheed had determined that an aircraft larger than the Model 10 Electra, designated R2O and R3O, q.v., in USN and U.S. Coast Guard service, was required to compete against the DC-2 and DC-3. (The DC-3 was designated R4D, q.v., in USN service.) The Models 10 and 12 had be designed as passenger transports but the Model 14 was designed to operate in either in either a passenger/cargo or all-cargo payloads. Like the Models 10 and 12, the Model 14 was an all-metal, twin-engined, twin-tail, monoplane with a retractable main landing gear and fixed tail wheel. However, unlike the Models 10 and 12, the Model 14 was a midwing monoplane equipped with Fowler flaps and a deep elliptical fuselage that could accommodate a pilot and copilot and either (1)14-passengers in seven rows or (2) ten to eleven passengers with a galley and a flight attendant. Construction of the first aircraft began in 1937 and it made it's first flight was on 29 July 1937. This aircraft was produced in five versions, the major difference being the engines.
A total of 112 Model 14's were built by Lockheed. The first U.S. commercial airline to operate the Model 14 was Northwest Airlines which placed it in service in September 1937; additional U.S. airline customers included Continental Airlines and Santa Maria Airlines. Non-U.S. commercial operators were in Australia (Guinea Airways), Canada (Trans-Canada Air Lines), France (Air Afrique), Ireland (Aer Lingus), Japan (Japan Air Transport Co.), Netherlands (KLM), Netherlands East Indies (KNILM), Poland (LOT), Portugese East Africa (DETA), Romania (LARES), UK (British Airways) and Venezuela (LAV).
Northwest Airlines purchased a total of eleven Model 14's and, in October 1937, became the first airline to operate the aircraft in commercial service. The public were impressed with the aircraft and praised it's high cruising speed but the Model 14 also had a high seat-mile cost. Problems began on 16 May 1938 when a Northwest Airlines Model 14-H2 crashed on landing. This crash was caused by tail flutter and this was corrected by retrofitting balanced control surfaces. This initial crash was quickly followed by two other crashes of Northwest Model 14's, one on 8 July 1938 and the second on 13 January 1939. These two crashes were not related to tail flutter but the overall result was that the public lost confidence in the Model 14 and Northwest sold all of their Model 14's during the summer of 1939 and purchased DC-3's. The Model 14 was Lockheed's largest aircraft at the time and in an attempt to produce another plane, Lockheed began work on the Model 18 Lodestar which was designated R5O, q.v., in USN service.
In 1938, the Japanese firm Tachikawa Aeroplane Co. Ltd. obtained the manufacturing licence rights and built 64 aircraft; an additional 55 were built by Kawasaki as the Army Type 1 Freight Transport or Kawasaki Ki-56, Allied Code Name Thalia.
The USN ordered one Model 14-H2 as a staff transport and designated it XR4O-1. In March 1942, four KNILM Model 14-WF62's were flown from Java to Australia to avoid capture by the Japanese. One crashed and the other three were purchased by the U.S. and assigned to the U.S. Army Air Forces (USAAF) and designated C-111-LO's.
In the late 1930's the Royal Air Force (RAF) began looking for a replacement for the short-ranged Avro 652A Anson then in service with RAF Coastal Command. In February 1938, Lockheed began preliminary design studies for a bomber version of the Model 14 for the British Purchasing Commission (BPC). The proposed aircraft retained the wing, tail surfaces and engines of the Model 14 but the fuselage was modified to include a dorsal turret, and ventral hatch; a bomb bay; and navigator and bombardier positions in the nose. In April, the mock up was shown to the BPC and after discussions and modifications, an order was placed on 23 June 1938 for 200 Model B14L's as the new aircraft was designated. These aircraft went on to fame as the Lockheed Hudson Mark I; subsequent Hudson's had strengthened airframe components and were designated Model 414's and were designated Hudson Mk. II through VI by the RAF. The Hudson was the first U.S.-built aircraft to see operational service with the RAF in World War II. The order for 200 aircraft caused a storm in the U.K. because many people felt that all aircraft for the British military should be built in the U.K.
The finalized version of the B14L had a crew of five, i.e., (2) the navigator who sat in the nose, (2) the bombardier who lay prone on the floor behind the navigator and sighted through Plexiglas panels in the undersurface of the aircraft, (3) the pilot who sat in the cockpit, (4) the radio operator who sat behind the pilot and (5) the gunner who operated the rear turret. A jump seat was located next to the pilot and a crewman or second pilot could sit there. Armament consisted of five .303 caliber (7.7 mm) machine guns, two fixed guns in the nose, two in a Boulton Paul turret aft of the entrance door and one in a retractable prone position beneath the fuselage. Later models provided for two .303 caliber (7.7 mm) machine guns in the waist positions. The bomb bay could accommodate 1,400 pounds (635 kg) of bomb or depth charges.
On 11 March 1941, President Franklin D. Roosevelt signed the Lend-Lease Bill and the U.S. Army Air Corps (USAAC), superseded by the USAAF on 20 June 1941, assumed responsibility for ordering all Model 414's for U.S. and Lend-Lease delivery. The Hudson's ordered by the USAAF were designated A-28-LO, A-28A-LO, A-29-LO, A-29A-LO, A-29B-LO, AT-18-LO and AT-18A-LO depending on the aircraft's mission and whether Wright or Pratt & Whitney engines were installed..
An order for 416 A-29-LO's was placed on 29 May 1941; these aircraft were designated Hudson Mk. IIIA's in RAF and Royal Canadian Air Force (RCAF) service however, the first 20 aircraft from this order were diverted to the USN and designated PBO-1 becoming the USN's first land based patrol bomber. All were delivered in standard RAF camouflage, i.e., Dark Green and Dark Earth upper surfaces and light gray under surfaces however, they were equipped with .30-caliber (7.62 mm) machine guns.
PRODUCTION HISTORY
PBO-1: Twenty A-29-LO's ordered by the USAAF for Lend-Lease to the RAF as Hudson Mk IIIA's were diverted to the USN. They were powered by two 1,200 hp (895 kW) Wright R-1820-87 nine-cylinder, single-row, air-cooled, radial engines driving three-bladed Hamilton-Standard Hydromatic constant-speed propellers.
XR4O-1: One Model 14-H2 ordered as a staff transport. The aircraft was powered by two 850 hp (633.8 kW) Pratt & Whitney R-1690-52 nine-cylinder, single-row, air-cooled, radial engines driving two-bladed, feathering propellers.
OPERATIONAL HISTORY
U.S. Navy
The single XR4O-1 was delivered to the USN on 15 October 1938 and remained in the inventory until 1944. As a staff transport, it spent most, if not all, of that time, based at Naval Air Station (NAS) Anacostia, District of Columbia.
The first of twenty PBO-1's was delivered to Patrol Squadron Eighty Two (VP-82) at NAS Quonset Point, Rhode Island on 29 October 1941. By the end of December 1941, there were 18 aircraft in the inventory, 14 assigned to VP-82, two assigned to the Transition Training Squadron (TTS) at NAS Norfolk and two others at NAS Norfolk as spares. On 1 January 1942, VP-82 deployed a twelve detchment of PBO-1s to NAS Argentia, Newfoundland under Patrol Wing Seven (PatWing-7) to provide convoy coverage, harbor patrol and antisubmarine sweeps. During this period, the aircrews were berthed aboard the Seaplane Tender USS Pocomoke (AV-9) and later the Seaplane Tender, Destroyer George E. Badger (AVD-3) and the Small Seaplane Tender USS Barnegat (AVP-10). By May 1942, the crews were move to barracks on the air station.
On 28 January 1942, the squadron claimed a U-boat sunk off Cape Race, Newfoundland but postwar examination of German records do not indicate any losses during this period. The first authenticated sinking of a U-boat by a PBO-1 occurred on 1 March 1942 when U-656, a Type VIIC U-boat, was sunk south of Cape Race at 46.15N, 53.15W by an aircraft flown by Ensign Tepuni; the aircraft had been flying support for convoy ON-72. This was the first German submarine sinking attributed to U.S. forces in World War II.
In May 1942, a three of the PBOs at NAS Argentia, Newfoundland returned to NAS Quonset Point, Rhode Island and the final six aircraft returned on 10 June 1942. On 13 and 15 August 1942, another detachment consisting of nine PBO-1s departed NAS Norfolk, Virginia for NAS Trinidad, British West Indies accompanied by the Royal Air Force's No. 53 Squadron equipped with Hudson Mk. IIIs. While in Trinidad, the detachment flew antisubmarine patrols under the operational control of PatWing-11. VP-82 began to transition from the PBO-1 to the Lockheed PV-1 Ventura, q.v., in September 1942 and the last PBO-1 were stricken from the inventory of VP-82 on 31 October 1942. The remaining PBO-1's were transferred to PV operational training units at NAS Deland and NAS Sanford, Florida.
U.S. Marine Corps (USMC)
The USMC received at least one PBO-1 in 1944.
SPECIFICATIONS
Wing Span: 65 feet 6 inches (19.96 meters)
Length: 44 feet 4 inches (13.51 meters)
Height: 11 feet 10 inches (3.61 meters)
Wing Area: 556 square feet (51.65 square meters)
Empty Weight
PBO: 12,680 pounds (5,752 kg)
R4O: 10,300 pounds (4,672 kg)
Gross Weight
PBO: 18,837 pounds (8,544 kg)
R4O: 15,200 pounds (6,895 kg)
Maximum Speed
PBO: 253 mph at 15,000 feet (407 km/h at 4,570 meters)
R4O: 247 mph at 7,000 feet (397.5 km/h at 2,134 meters)
Cruising Speed
PBO: 205 mph (329.9 km/h)
R4O: 215 mph (346.0 km/h)
Service Ceiling
PBO: 26,500 feet (8,075 meters)
R4O: 24,300 feet (7,407 meters)
Normal Range
PBO: 1,750 miles (2,816 km) with four depth charges
R4O: 1,500 miles (2,414 km)
Maximum Range
PBO: 2,160 miles (3,436 km)
R4O: 2,060 miles (3,315 km)
Armament
PBO: Five .30-caliber (7.62 mm) machine guns; two mounted in the nose in front of the cockpit; two in a Boulton Paul turret at the aft end of the fuselage near the tail surfaces; and one in a retractable prone position beneath the fuselage. A total of 1,400 pounds (635 kg) of bombs or depth charges could be carried internally in the bomb bay.
R4O: None