DE-99 Cannon class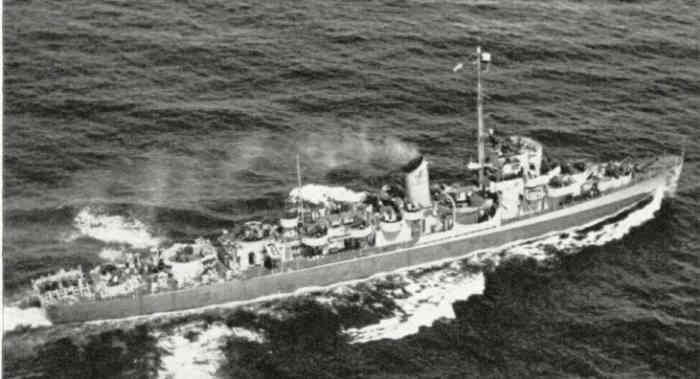 Design History
Generally similar to the Buckley class, the Cannons possessed a diesel-electric drive system with 6000hp. The longer hull of the Cannon class resulted in a higher speed despite the same power, compared to the Evarts class. Armament was similar to the Buckley class, speed somewhat faster than the Evarts.
Modification History
Various minor modifications were made to these ships in the anti-air armament. Radar equipment was installed as the availability permitted.
Service History
Escort destroyers of this class served in all theaters on general escort duty. No ship of this class was lost in the Pacific.

Ships in class:
DE-99 Cannon
DE-100 Christopher
DE-101 Alger
DE-102 Thomas
DE-103 Bostwick
DE-104 Breeman
DE-105 Burrows
DE-112 Carter
DE-113 Clarence L. Evans
DE-162 Levy
DE-163 McConnell
DE-164 Osterhaus
DE-165 Parks
DE-166 Baron
DE-167 Acree
DE-168 Amick
DE-169 Atherton
DE-170 Booth
DE-171 Carroll
DE-172 Cooner
DE-173 Eldridge
DE-174 Marts
DE-175 Pennewill
DE-176 Micka
DE-177 Reybold
DE-178 Herzog
DE-179 McAnn
DE-180 Trumpeter
DE-181 Straub
DE-182 Gustafson
DE-183 Samuel S. Miles
DE-184 Wesson
DE-185 Riddle
DE-186 Swearer
DE-187 Stern
DE-188 O'Neill
DE-189 Bronstein
DE-190 Baker
DE-191 Coffman
DE-192 Eisner
DE-193 Garfield Thomas
DE-194 Wingfield
DE-195 Thornhill
DE-196 Rinehart
DE-197 Roche
DE-739 Banquist
DE-740 Waterman
DE-741 Weaver
DE-742 Hilbert
DE-743 Lamons
DE-744 Kyne
DE-745 Snyder
DE-746 Hemminger
DE-747 Bright
DE-748 Tills
DE-749 Roberts
DE-750 McClelland
DE-751 Gaynier
DE-752 Curtis W. Howard
DE-753 John J. Van Buren
DE-763 Cates
DE-764 Gandy
DE-765 Earl K. Olsen
DE-766 Slater
DE-767 Oswald
DE-768 Ebert
DE-769 Neal A. Scott
DE-770 Muir
DE-771 Sutton
DE-772 Milton Lewis
DE-773 George M. Campbell
DE-774 Russell M. Cox
Stats

Displacements:
Standard: 1,357 tons
Full: 1,652 tons
Length: 93,27m / 306ft
Beam: 11,22m / 36ft 10"
Draft (Full Load): 3,17m / 10ft 5 1/4"
Crew (Officers/Men): 15/201
Endurance: 10,800nm at 12 knots
Speed: 21 knots

Armor

Belt: No belt armor
Deck: No deck armor
Barbettes: No barbette armor
Conning Tower: No conning tower armor

Armament and Equipment

(As designed):
Main: 3 x 76mm L/50, in three single mounts
Secondary: None
AA: 2 x 40mm L/56 in one twin mount, 8 x 20mm L/70 in single mounts
Torpedoes: Three 533mm torpedo tubes in one triple mount
Depth Charges: 1 x Hedgehog forward, 8 x K-Gun, 2 x depth charge track; perhaps 120 depth charges