Chance-Vought SB2U Vindicator
by Jack McKillop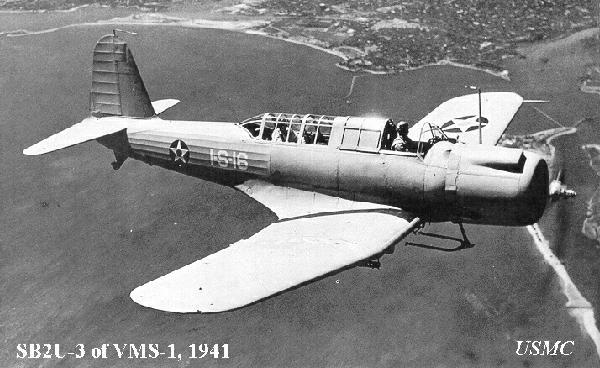 In 1934, the U.S. Navy completed a detailed Type Specification for a new carrier-based scout-bomber and invited the aviation industry to bid on the design and construction of experimental aircraft. Six companies responded with new designs. Since three of the designs were for biplanes and three for monoplanes, the competition for contracts was divided into two parts; the first part was for aircraft of monoplane configuration and the second was for aircraft of biplane configuration. The entrants in the competition were:
1. The Brewster Aeronautical Corporation proposed a two-seat monoplane. One prototype, designated XSBA-1, was ordered on 15 October 1934 and was delivered on 15 April 1936. After testing and modifications were made, 30 SBN-1's were ordered from the Naval Aircraft Factory in Philadelphia, Pennsylvania and were delivered between November 1940 and March 1942.
2. The Curtiss Aeroplane Division of the Curtiss-Wright Corporation proposed a two-seat biplane. Curtiss took an existing XSBC-2 and changed the engine; the new aircraft was designated XSBC-3. Eighty three production SBC-3's were ordered in August 1936 with deliveries beginning on 17 July 1937.
3. The Great Lakes Aircraft Corporation proposed a two seat biplane based on their BG-1 dive-bomber; the new aircraft was basically a BG-1 with retractable landing gear. One prototype was ordered as the XB2G-1 but no orders for production aircraft were placed.
4. The Grumman Aircraft Engineering Corporation proposed a two-seat biplane with retractable landing gear which was ordered in March 1935 as the XSBF-1. Only the prototype was ordered and no orders for production aircraft were placed.
5. The Northrop Corporation, a subsidiary of the Douglas Aircraft Company, proposed a monoplane ordered as the XBT-1. After testing, 54 production BT-1s were ordered and deliveries began in April 1938.
The sixth entrant was the Chance Vought Division of the United Aircraft Corporation located in Hartford, Connecticut. The other three divisions of United Aircraft were the Sikorsky Aircraft Division in Stratford, Connecticut; and the Pratt & Whitney Engine Division and Hamilton Standard Propeller Division both located in East Hartford, Connecticut. In 1939, the Chance Vought and Sikorsky Divisions were merged into the Vought-Sikorsky Division and Vought production was moved to Stratford, Connecticut.
The Chance Vought entry, Model V156, was an all-metal, single-engine, low-wing monoplane with retractable landing gear and tail hook for carrier operations. The main landing gear rotated 90 degrees so that the wheels lay flat in wing recesses; the tail hook was retractable but lay external to the fuselage but the tail wheel was not retractable. The rear half of the fuselage, the rear half of the wings and the control surfaces, i.e., ailerons, rudder and elevators, were metal framed but covered with fabric. The crew of two, the pilot and the observer/gunner, sat in tandem in a single long canopy. The aircraft had upward manually folding wings for carrier stowage and the engine drove a two-bladed Hamilton Standard constant speed propeller.
A prototype, the XSB2U-1, was ordered making it the first monoplane scout-bomber ordered by the U.S. Navy. Even though the Navy ordered the XSB2U-1 monoplane, Navy personnel were still not convinced of the superiority of the monoplane over the biplane. Many feared that the higher landing speed of the monoplane and longer takeoff run on a pitching deck of a carrier would make the monoplane unsuitable for carrier operations. In February 1935, the Navy signed a contract with Chance Vought to build a biplane scout-bomber to test against the XSB2U-1. This new biplane, designated XSB3U-1, was essentially a Vought SBU-2 biplane scout-bomber with a retractable landing gear.
Both the XSB2U-1 monoplane and the XSB3U-1 biplane were delivered to Naval Air Station (NAS) Anacostia, Washington, D.C. in July 1936. Testing of the two aircraft proved the superiority of the monoplane and no production models of the biplane were ordered.
One of the problems found with this aircraft, and a problem that was never corrected, was its tendency to go into a spin if the aircraft entered a high speed stall.
PRODUCTION HISTORY
XSB2U-1: One prototype, powered by a 750-hp (559.3 kW) Pratt & Whitney R-1535-78 14-cylinder, twin row, air-cooled, radial engine, was ordered on 11 October 1934. Armament consisted of two .30 caliber (7.62 mm) machine guns, one fixed in the wing and one flexible in the rear cockpit. The aircraft was first flown on 4 January 1936 and was delivered to the Navy on 2 July 1936. During stall tests at low altitude on 20 August 1936, the aircraft spun in killing the two crewmen.
SB2U-1: First production version with an 825 hp (615.2 kW) Pratt & Whitney R-1535-96 engine. A contract was signed on 26 October 1936 for 54 aircraft. The aircraft made it=92s first flight on 21 May 1937 and deliveries to operational units began in December 1937.
SB2U-2: Second production model similar to the SB2U-1 but with equipment changes that slightly increased the overall weight. A contract was signed on 27 January 1938 for 58 aircraft. The aircraft made its first flight on 11 August 1938 and this was delivered to the Navy on 29 August. Deliveries to operational units began in December 1938.
XSB2U-3: One SB2U-1 modified with an 825 hp (615.2 kW) Pratt & Whitney R-1535-102 engine, three additional unprotected metal fuel tanks, longer horizontal stabilizers, and .50 caliber (12.7 mm) machine guns in place of the .30 caliber (7.62 mm) guns on previous models. Empty weight increased by 921 pounds (418 kg) making the aircraft sluggish. The first flight was in February 1939. The aircraft was returned to the Vought factory and equipped with a pair of Edo floats and tested as a float scout bomber. The tests proved that the aircraft was of limited value as a float plane and the aircraft was reconfigured as a land plane and delivered as the first SB2U-3.
SB2U-3: Third production model as the XSB2U-3. This aircraft was developed for the U.S. Marine Corps which needed a dive bomber with longer range. A contract was signed on 29 September 1939 for 57 aircraft. Marine pilots called the aircraft a virtual flying fuel tank and nicknamed it "Wind Indicator" and "Vibrator" instead of the name Vindicator. This was the first SB2U to be named Vindicator but the name was applied retroactively to previous models. The aircraft made its first flight on 10 January 1941 and deliveries to operations squadrons began in March 1941.
OPERATIONAL HISTORY
Vindicator squadrons served in five U.S. Navy aircraft carriers, i.e.:
USS LEXINGTON (CV-2): VB-2, which transitioned from Curtiss BFC-2s between March and April 1938, was the second SB2U-1 squadron in the U.S. Navy. In late 1940, the squadron began transitioning to the Douglas SBD Dauntless and the last Vindicator left in January 1941. In addition to VB-2, the Lexington Air Group Commander operated one SB2U-1 or -2 between June 1938 and August 1940 while Fighting Squadron Two (VF-2) operated a Vindicator as a utility aircraft between July 1938 and October 1940.
USS SARATOGA (CV-3): VB-3 was the first U.S. Navy squadron equipped with SB2U-1s when it began converting from Great Lakes BG-1s. The first Vindicator was received on 20 December 1937 and all 18 aircraft had been delivered by 1 March 1938. In January 1939, Saratoga began an overhaul and her squadrons were detached to NAS San Diego, California. At the same time, USS Ranger (CV-4) was scheduled to depart for the Atlantic Fleet and since her bombing squadron, VB-4, was in the process of converting from BG-1s to SB2U-2s, VB-3 was reassigned to the Ranger while VB-4 was assigned to the Saratoga. On 15 July 1939, VB-4 in Saratoga was redesignated VB-3. VB-3 continued to operate SB2Us until May 1941 when it converted to SBDs. In addition to the bombing squadrons, the Saratoga Air Group Commander operated an SB2U-2 between November 1938 and October 1940 while VF-3 operated one SB2U-1 or -2 as a utility aircraft between December 1938 and October 1940. One other user was Torpedo Squadron Three (VT-3) which operated six SB2U-2s between February and June 1939 to train Naval Aviation Cadets who were assigned to the squadron.
USS RANGER (CV-4): In December 1938, VB-4 began converting from BG-1's to SB2U-2's. Since Ranger was scheduled to join the Atlantic Fleet in January 1939, VB-4 was replaced by VB-3 from USS Saratoga and on 1 July 1939, VB-3 was redesignated VB-4. In 1940, the Navy decided that Atlantic Fleet Air Groups should consist of two fighting (VF) and two scouting (VS) squadrons and on 15 March 1941, VB-4 was redesignated Scouting Squadron Forty One (VS-41). The second scouting squadron, VS-42, began equipping with SB2U-1's and -2's in December 1940. The Ranger engaged in Neutrality Patrols from 1939 to 1941 and then participated in convoy escort and antisubmarine patrols. VS-41 converted to SBD=92s in March 1942 and VS-42 began to transition to the SBD in the summer of 1942 and the last Vindicator left in September 1942. In addition, the Ranger Air Group Commander operated an SB2U-1 between July 1939 and June 1940 while VF-4 operated an SB2U-1 as a utility aircraft between August 1939 and February 1940.
USS WASP (CV-7): The Wasp Air Group began training in 1939 prior to the commissioning of the Wasp on 25 April 1940. Three squadrons of the Wasp Air Group were equipped with SB2U=92s. The first was VS-72 which received it=92s first SB2U-2 in July 1939; in July 1940, VB-7 followed until the squadron was decommissioned on 15 November 1940; the third squadron was VS-71 which acquired it=92s first SB2U in January 1941. Wasp began Neutrality Patrols in fall 1940 and these continued until the Japanese attacked Pearl Harbor. In March 1942, Wasp sailed to Great Britain and , after leaving her scout bombers ashore, made two voyages to Malta to deliver aircraft for the Royal Air Force (RAF). Wasp was ordered home and began preparing for Pacific operations and both VS-71 and VS-72 converted from SB2U=92s to SBD=92s in Ma= y and June 1942. In addition, the Wasp Air Group Commander operated an SB2U-2 between July 1939 and July 1941. Three Wasp fighting squadrons also operated SB2U-2's: VF-7 between September 1938 and December 1940; VF-71 between May and June 1941; and VF-72 between September 1939 and November 1941.
USS ESSEX (CV-9): Carrier Air Group Nine (CVG-9) was commissioned on 1 March 1942 destined to serve in the Essex when she commissioned in December 1942. Two of CVG-9's squadrons, VB-9 and VS-9, were equipped with SB2U-1s and -2s. Carrier qualifications were carried out in the auxiliary aircraft carrier USS Charger (ACV-30) including a training cruise to Bermuda in October 1942. Essex was commissioned on 31 December 1942 and no time was wasted in qualifying CVG-9. Prior to departing to the Pacific, VS-9 transitioned to SBD's in January 1943 and VB-9 followed in February 1943.
The first U.S. Marine Corps squadron to operate the Vindicator was Marine Fighting Squadron One (VMF-1) at Marine Corps Air Station (MCAS) Quantico, Virginia. This squadron was operating Grumman F3F-2 biplanes at the time and one SB2U-1 was assigned to the squadron as a utility aircraft in 1938-1939.
As stated above, the 57 SB2U-3s went to the U.S. Marine Corps. In March 1941, Marine Scouting Squadron Two (VMS-2) at MCAS Ewa, Oahu, Territory of Hawaii began transitioning from the Curtiss SOC-3 Seagull to the SB2U-3. On 1 July 1941, the squadron was redesignated Marine Scout-Bombing Squadron Two Hundred Thirty One (VMSB-231) and the exploits of this squadron during World War II are described below.
The second Marine squadron to operate the SB2U-3 was VMS-1 at MCAS Quantico, Virginia. The squadron began the transition from the Great Lakes BG-1 to the Vindicator in May 1941 and was redesignated VMSB-131 on 1 July 1941. After the Japanese attack on Pearl Harbor, the squadron was ordered to NAS San Diego, California and continued to operate their Vindicators until reequipping with Grumman TBF-1 Avengers in late summer 1942.
The last two Marine squadrons to receive new SB2U-3s were utility squadrons. Marine Utility Squadron Two (VMJ-2) at MCAS Ewa acquired one aircraft on 2 May 1941 and operated it into 1942; the squadron was redesignated VMJ-252 on 1 July 1941. The second squadron, VMJ-152 at MCAS Quantico, operated one aircraft from 22 July 1941 into 1942.
In September 1942, three squadrons began training with the SB2U. VMSB-142 on the West Coast trained with the Vindicator in September and October prior to transferring to Guadalcanal Island (9.32S 160.12E) in the Solomon Islands. Two other newly commissioned squadrons, VMSB-143 and -144 at NAS San Diego, California, were equipped with SB2Us for training; the squadrons transitioned to Douglas SBD Dauntlesses in November and December 1942 respectively.
The only U.S. squadron to see combat with the SB2U was the aforementioned VMSB-231. In late 1941, this squadron was selected to reinforce the Marine Defense Battalion on Midway Island (28.13N 177.22W). On 4 December 1941, one officer and 40 enlisted men of VMSB-231 arrived on Midway in the seaplane tender USS Wright (AV-1) while the air echelon was in the aircraft carrier USS Lexington (CV-2). On 7 December 1941, Lexington was part of Task Force Twelve (T.F. 12) en route from Pearl Harbor to Midway. Immediately after the Japanese attack, T.F. 12 was ordered to search south of Hawaii where the Japanese fleet was assumed to be and continued searching until the ships returned to Pearl Harbor on 13 December. As they approached Hawaii, the 18 SB2U-3's of VMSB-231 were flown off to MCAS Ewa which had suffered severe damage during the Japanese raid.
On 17 December 1941, 17 SB2U-3s departed from MCAS Ewa for Midway led by a Consolidated PBY Catalina. The flight took nine hours and 45 minutes, the longest over water flight by single-engined aircraft up to that time.
On 1 March 1942 in a paper change, VMSB-231 was transferred to MCAS Ewa with a few personnel and the remaining squadron members were assigned to the newly commissioned squadron, VMSB-241. Replacements were received but many of them were young Second Lieutenants who were not completely trained and on-the-job training (OJT) was required. In May 1942, the Marines on Midway were reinforced in preparation for the forthcoming Battle of Midway. On 26 May, 19 Douglas SBD-2 Dauntless dive bombers arrived in the aircraft transport USS Kitty Hawk (APV-1) and VMSB-241's strength now consisted of 19 SBD-2's and 17 SB2U-3's.
The Battle of Midway began on 4 June 1942. At 0555 hours local, Midway radar picked up "many" incoming bogies and the scout-bombers, divided into two groups, were scrambled. The squadron commander, Major Lofton R. Henderson led 16 SBD-2=92s while the squadron executive officer, Major Benjamin W. "Ben" Norris, led 12 SB2U-3's. The engine cowling of one SB2U blew off on takeoff and the aircraft aborted the mission leaving 11 Vindicators to attack the Japanese fleet. The squadron's orders were to attack enemy carriers located 180 miles (289.67 km) northwest of Midway.
The SBD-2's were faster than the Vindicators and they found two Japanese aircraft carriers first at approximately 0755 hours. Henderson elected to launch a glide-bombing attack instead of a dive-bombing attack because so many of the pilots were inexperienced with the aircraft. The Japanese had eight Mitsubishi A6M2 Navy Type Zero Carrier Fighters, Allied Code Name "Zeke" in the air at the time; they were joined by four other "Zekes" and an Aichi D3A, Navy Type 99 Carrier Bomber, Allied Code Name "Val". Henderson began the attack and his aircraft was one of the first shot down by Japanese fighters; seven other SBD-2's were also shot down. The results of the Marine bombing attack are confused but the best source, a Japanese report, indicates that the SBD-2's probably made three near misses, within 20 meters (65.62 feet), on the aircraft carrier Kaga at 0830 hours and four near misses, two at 50 meters (164 feet), one at 80 meters (262.5 feet) and one at 150 meters (492.1 feet), on the aircraft carrier Hiryu at 0850 hours. One of the SBD=92s strafed the Hiryu killing four men.
Major Norris=92s SB2U-3's arrived about 15 minutes behind the SBDs and was sighted by the Japanese at about 0820 hours. The eleven aircraft were flown by a major, a captain and nine second lieutenants. The Japanese had ten "Zekes" in the air at the time but all had attacked the SBDs and were low on 20mm ammunition. The Vindicators were immediately attacked by three "Zekes", a Marine rear seat gunner shot down one of them. Because of their position relative to the Japanese ships, Norris decided to attack a battleship but only minor damage was done by a near miss. In the meantime, the Japanese launched ten additional "Zekes" with a full load of ammunition and four Vindicators were lost; one was shot down, one pilot failed to release his bomb and disappeared while attempting to try again and two landed at sea while returning to Midway.
That night, VMSB-241 had eleven operational aircraft, six SBD-2's and five SB2U-3's. At 1900 hours local, Major Norris, who had assumed command of VMSB-241 when Major Henderson was killed, led the eleven aircraft to locate a "burning enemy carrier" 200 miles (321.9 km) northwest of Midway; the ship was never found. Major Norris was killed when he was 50 miles (80.5 km) from Midway on the return flight when his aircraft spun into the water. The most probable cause was vertigo caused by flying too many hours that day.
On the morning of 5 June, VMSB-241 had 12 operational aircraft, six SBD-2's and six SB2U-3's. Captain Marshall Taylor, the squadron=92s third commander in three days, was ordered to attack "two enemy battleships (one crippled)" 170 miles (273.6 km) west of Midway. Actually, these were the heavy cruisers Mikuma and Mogami that had approached Midway during the night intending to bombard it with their 8 inch (20.3 cm) guns. Taylor led the SBDs while Captain Richard E. Fleming led the SB2Us. The aircraft took off and found the Mikuma. Taylor elected to split his force in half; the SBDs would make a dive bombing attack from 10,000 feet (3,048 m) while the SB2Us would make a glide bombing attack from 4,000 feet (1,219 m). The SBDs bracketed the cruiser with six near misses, one of them only 10 meters (32.8 feet) from the ship. The SB2Us then attacked. Captain Fleming led the attack but his aircraft was hit and the engine began smoking. After dropping his bomb, he attempted to pull up but the aircraft burst into flame. The fate of Captain Fleming is controversial. One Japanese report stated that he crashed into Mikuma and the Japanese considered it a suicide attack but this is not confirmed in Japanese records. The three Marine pilots flying behind Fleming all stated that the aircraft pulled up, at least one and possibly two parachutes were seen and then the Vindicator crashed in the water off the Mikuma's beam.
Midway was the last U.S. action for the SB2U Vindicator. Both Major Henderson and Captain Fleming were later honored for their heroism at Midway. In August 1942, two airfields, the NAS Midway Island and the captured Japanese airfield on Guadalcanal were named Henderson Field. Captain Fleming also had an airfield named for him; on 20 July 1943, an auxiliary field to NAS Minneapolis, Minnesota, located 7 miles (11.3 km) south southeast of Minneapolis, was renamed Fleming Outlying Field (OLF). (In 1999, this is South St. Paul Municipal-Richard E. Fleming Field Airport, Location Identifier SGS, at 44.51N 93.02W.) Fleming was also posthumously awarded the U.S.'s highest award, the Medal of Honor, with the following citation:
"For extraordinary heroism and conspicuous intrepidity above and beyond the call of duty as Flight Officer, Marine ScoutBombing Squadron TWO FORTYONE during action against enemy Japanese forces in the Battle of Midway on June 4 and 5, 1942. When his squadron Commander was shot down during the initial attack upon an enemy aircraft carrier, Captain Fleming led the remainder of the division with such fearless determination that he dived his own plane to the perilously low altitude of four hundred feet before releasing his bomb. Although his craft was riddled by 179 hits in the blistering hail of fire that burst upon him from Japanese fighter guns and antiaircraft batteries, he pulled out with only two minor wounds inflicted upon himself. On the night of June 4, when the Squadron Commander lost his way and became separated from the others, Captain Fleming brought his own plane in for a safe landing at its base despite hazardous weather conditions and total darkness. The following day, after less that four hours' sleep, he led the second division of his squadron in a coordinated glidebombing and dive bombing assault upon a Japanese battleship. Undeterred by a fateful approach glide, during which his ship was struck and set afire, he grimly pressed home his attack to an altitude of five hundred feet, released his bomb to score a nearmiss on the stern of his target, then crashed to the sea in flames. His dauntless perseverance and unyielding devotion to duty were in keeping with the highest traditions of the United States Naval Service."
By 1943, all Vindicators had been transferred to training units throughout the U.S.; the largest concentration of SB2Us was at NAS Jacksonville, Florida where they were used for scout bomber operational training. No SB2U survived the war; approximately 30 percent were lost in combat while 50 percent were lost due to accidents and attrition.
The only known Vindicator in existence is SB2U-2, Bureau Number (BuNo) 1383, in the National Museum of Naval Aviation at NAS Pensacola, Florida. This aircraft was ditched in Lake Michigan while conducting training operations in the training aircraft carrier USS Wolverine (IX-64) during World War II. The aircraft was found in 130 feet (39.6 m) and raised in the 1990's and, as of April 1999, has been restored and is on display in the West Wing of the museum.
SPECIFICATIONS
Wing Span: 42 feet (12.80 miters)
Length
XSB2U-1: 33 feet 2 inches (9.80 miters)
All others: 34 feet (10.36 miters)
Height
XSB2U-1: 15 feet 10 inches (4.83 miters)
All others: 10 feet 3 inches (3.12 miters)
Wing Area: 305 square feet (28.34 square miters)
Empty Weight
XSB2U-1: 4,315 pounds (1,957 kg)
SB2U-1: 4,676 pounds (2,121 kg)
SB2U-2: 4,713 pounds (2,138 kg)
SB2U-3: 5,634 pounds (2,556 kg)
Gross Weight
XSB2U-1: 5,916 pounds (2,683 kg)
SB2U-1: 6,323 pounds (2,868 kg)
SB2U-2: 6,379 pounds (2,893 kg)
SB2U-3: 7,474 pounds (3,390 kg)
Maximum Weight
XSB2U-1: 6,191 pounds (2,808 kg)
SB2U-1: 7,278 pounds (3,301 kg)
SB2U-2: 7,332 pounds (3,326 kg)
SB2U-3: 9,421 pounds (4,273 kg)
Maximum Fuel
XSB2U-1: 130 US gallons (492 liters)
SB2U-1: 118 US gallons (447 liters)
SB2U-2: 118 US gallons (447 liters)
SB2U-3: 420 US gallons (1,590 liters)
Maximum Speed
XSB2U-1: 230 mph at 8,900 feet (370 km/h at 2,713 miters)
SB2U-1: 250 mph at 9,500 feet (402 km/h at 2,896 miters)
SB2U-2: 251 mph at 9,500 feet (404 km/h at 2,896 miters)
SB2U-3: 243 mph at 9,500 feet (391 km/h at 2,896 miters)
Service Ceiling
XSB2U-1: 26,600 feet (8,108 miters)
SB2U-1: 27,400 feet (8,352 miters)
SB2U-2: 27,500 feet (8,382 miters)
SB2U-3: 23,600 feet (7,193 miters)
Climb Rate
XSB2U-1: 5,000 feet (1,524 miters) in 3.7 minutes
SB2U-1: 1,500 feet (457 miters) in 1 minute
SB2U-2: 1,340 feet (408 miters) in 1 minute
SB2U-3: 1,070 feet 326 miters) in 1 minute
Range with 1,000 pound bomb
XSB2U-1: 532 miles (856 km)
SB2U-1: 635 miles (1,022 km)
SB2U-2: 630 miles (1,014 km)
SB2U-3: 1,120 miles (1,802 km)
Armament
All except SB2U-3: Two .30 caliber (7.62 mm) machine guns; one fixed in the starboard wing and one flexible in the rear cockpit
SB2U-3: Five .50 caliber (12.7 mm) machine guns; four fixed in the wings (normally, only one was fitted) and one flexible in the rear cockpit.
Bomb Load: One 500- or 1,000-pound (226.8- or 453.6-kg) bomb beneath the fuselage.